Well for a lark I've been playing around recently with OKcupid (which I joined a long time ago to do the internet quizzes when they were memetastic but never really used it so I flushed all the data and restarted my profile). It has a fun picture rating thing down by category so I submitted mine and got back a report and all the pictures came back pretty much like this: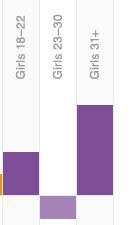 So apparently to women older than me and those younger than me I look alright... To women in my age group (which I'm smack dab in the middle of) I look like something that fell off the keister of the dark angry one. Heh. Perhaps that explains why I've been stood up a few times.
Anyways that wasn't the only surprise as while I had mostly normal photos I had two where I was in robes. Both of them got very high scores from Christians (one of the demographics) and the one where I was robed with esoteric stuff in the background did the best among Christians skewing them to be tied for second place among the demographics that liked my photos... Interesting...
I guess that somewhat explains why the service keeps on trying to match me with people who are of four categories: 1. Evangelical Christians, 2. Very off kilter people, 3. Far too older or younger than me, or 4. People who are not available. I like how it says I haven't completed my profile because I haven't sent out messages to people - well maybe if I got people other than preaching far-right Christians, Ppl wHo ALWAYS tyPe lik dis n sAy notHing cLosE 2 NtelliGent, and people who spend their entire profiles obsessing about anime & talking about how they are huge stereotypical Otakus, I might find someone interesting enough to message.
Other things went to Alex's birthday bash at MoMo
2
's on Saturday and proved once again I cannot sing at all in the Karaoke room. Also I had a few of my coworkers tell me that I looked very tired today which was very true as I had a lot on my plate and had been run ragged all day.
*faceplop* *dies*
Tags: random
Current Location: 34 W. Weber
Current Mood:
tired
Current Music: Damh the Bard - The Sun and the Rose